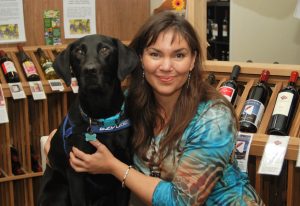 Hollie Swanson, in partnership with her parents, Gerald and Teresa Swanson, assumed ownership of the Greenbank Farm Wine Shop in the Fall 2015. Hollie says embarking on this new venture allows her to pursue one of her life passions: "I've had a love of wine my entire adult life." The Swansons are long-time residents of Puget Sound, with Hollie on Whidbey Island and her parents in Port Townsend.
Historically, the wine shop has been a staple of the Greenbank Farm since the days of Chateau Ste. Michelle's ownership of the farm. Since the Port of Coupeville took over ownership of the farm 18 years ago, the farm and the wine shop have been run by the Greenbank Farm Management Group. Under the new ownership, the Greenbank Farm Wine Shop is offering a broad variety of wines and ciders. 
Current beverage items on the shelves include wines from local wineries, fruit wines, dessert wines, hard ciders, wines made from organic and biodynamically grown grapes, and loganberry products.
The shop also carries chocolates from Sweet Mona's of Langley and the Port Townsend Chocolate Company, and a selection of gift items including a line of jewelry, hats, and scarves.